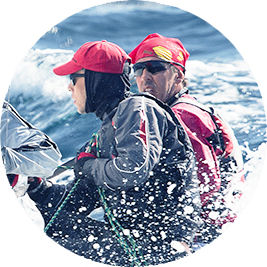 Selling your boat?
We take care of every step when it comes to selling your boat.
1
Your broker will advise you of the most suitable price to market your boat at.
2
Your broker will work with you to create a detailed listing for your boat.
3
We handle the negotiation process for you, ensuring you get the best deal.
Why Boatshed?
Boatshed is one of the world's largest yacht brokerage groups that prides itself on giving potential buyers the most complete and accurate picture of the boat that they want to buy.

Boatshed Brokers personally visit every boat that they list, taking unlimited photographs and videos which are available online to registered users anywhere in the world.
Read more
Here's what our customers have to say...
Many thanks for your invaluable advice and assistance in helping me to conclude the purchase of my Broom 1070. The mechanisms put in place by you through Boatshed went a long way to reassuring me that I was making the right choice of boat. Needless…
— MF, Dublin. April 2017, Boatshed Cork
Boatshed offer a very professional service, no messing around and they know how to sell . We sold our boat through Boatshed within two weeks of it going up on site. Would highly recommend Ken and Boatshed.
— DK, Lough Ree. April 2017, Boatshed Cork
Ken, many thanks for your professional support during the purchase of our Hanse 400. You helped make what could have been a difficult process easier and allowed us to buy with confidence. David and Karen
— David and Karen, Boatshed Cork
I recently sold my Hanse 400 through Boatshed Ireland. Ken's support and diligence was appreciated, then when he said he would help with the delivery from Kinsale to Southampton his duty to the cause was confirmed. We had some interesting weather,…
— G.S.H., Boatshed Cork
To Ken, I would like to take this opportunity to thank you very much for your assistance with the sale. You provided a really excellent service.
— Deborah - October 2016, Boatshed Cork
Thanks for everything. Your very efficient.
— Richard - April 2016, Boatshed Cork